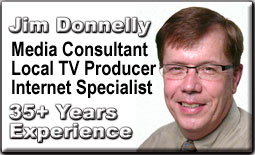 Work History
2009 - present
Freelance Media Specialist

2001 - present
Webmaster / Owner
MenuJoy.com

1976 - 2009
Comcast
and predecessor companies
AT&T Broadband, MediaOne, Colony Cablevision

Manage all aspects of local programming studio.
Extensive experience with studio and remote television production.
Producing, directing, camera operator, audio, lighting, etc.
Supervise staff (hiring, coaching, motivation, performance evaluation).
Train Public Access users and train trainers of Public Access users.
Prepare and execute asset and expense budgets.
Supervise production and cablecast studio for Portuguese Channel network,
seen in over thirty-five communities in Massachusetts and Rhode Island.
Facility Safety Officer and Safety Committee Chairman
Motivational Speaker w/PowerPoint presentations for employee incentive meetings
Produce marketing and customer service on-air campaigns.
Work with community and civic leaders on community projects.
---
Comprehensive experience with computer-based graphics and video editing:
Adobe Premiere, Photoshop, After Effects.
Office Computer Guru, advanced user of MS Excel, MS Word, etc.
1995-2006 Produced and hosted weekly TV series "world@your.pc",
dispensing computer operation and Internet navigation tips.
Creation of clear, concise training / policy materials: memos to manuals.
Extremely detail-oriented and organized.

WPRI-TV
Providence, Rhode Island
1975 - 1976
Studio Camera Operator

WTEV-TV
New Bedford, Massachusetts
1974 - 1975
Studio Camera Operator
Newsfilm Editor